By Paulina VillegasYesterday at 12:20 a.m. EDT299
North Carolina judges ordered the restoration of voting rights for thousands of people with a felony conviction in what advocates call the largest expansion of voting rights in decades in the state.
Under state law, individuals are prohibited from voting until they are fully discharged from probation, parole or a suspended sentence — often years after they are released from prison. Monday's ruling by a panel of the state Superior Court in Raleigh could make North Carolina the only state in the South to automatically restore voting rights to people after they leave prison.
Daryl Atkinson, co-director of Forward Justice, a civil rights group in Durham, N.C., described the decision during a news conference Monday as "the largest expansion of voting rights in this state since the 1965 Voting Rights Act."
Atkinson and other lawyers filed a lawsuit more than a year ago challenging the law, which was revised in 1973 and outlines when people stripped of their voting rights can regain those rights.
Last year, the same judges had ruled that the law's requirement that felons must first pay monetary obligation such as fines was unenforceable because voting would be bound to financial ability, according to the Associated Press.
On Monday, the three-judge panel said it had voted 2-to-1 on the decision. The ruling has not yet been written.
"This lawsuit was about us making sure that we include the 56,000 North Carolinians living in our community, paying taxes, dropping kids at school are included in 'We, the people,' " said Atkinson, who is a lawyer for the challengers in the case.
GOP state lawmakers who defended the existing law in court have said they plan to appeal Monday's decision to a higher court.
Lawyers representing plaintiffs who oppose the law argued in court last week that such policies were weaponized to prevent Black people from voting after the Civil War in an effort to stifle their political power, according to the Carolina Public Press.
Challengers of the law also claimed that in many cases, disenfranchisement persists because of an inability to pay court fees. In other instances, North Carolinians convicted of felonies are placed under community supervision sentences, without imprisonment, while paying taxes, and are still barred from voting during the entire probation period.
Other challengers include several people on probation or parole, and civil rights groups such as the North Carolina NAACP and the Community Success Initiative, a Raleigh group that helps former felons reenter society.
"Starting today, if a person can just say, 'I am not in jail or prison for a felony conviction,' then that person can register and they can vote freely," said Stanton Jones, an attorney representing the challengers.
That change will lead to 56,000 people being empowered, Jones added.
Plaintiffs argued in court that felon disenfranchisement "overwhelmingly" affects Black Americans, who represent about 20 percent of the state's voting population, and 40 percent of those prevented from voting while on probation or parole, according to the complaint.
Lawyers for the defense did not contest these numbers but argued that these rates are caused by disparities in the criminal justice system, not by the law that determines when people can vote again.
Orlando Rodriguez, a lawyer for the Republican lawmakers, said they won't defend the law's "shameful" history, but that it has been significantly improved since then. He argued that previously, the law imposed a heavy burden on people who requested their rights be restored after completing their parole or probation process, while the process is now automatic, according to the News & Observer.
Rodriguez did not respond to a request for comment Monday.
State Sen. Warren Daniel (R), co-chair of the Senate's committee on election law issues, criticized the judges' ruling as overstepping their authority.
"These judges may think they're doing the right thing by rewriting laws as they see fit (without bothering to even explain their ruling), but each one of these power grabs chips away at the notion that the people, through their legislature, make laws," he said in a statement to The Washington Post.
Daniel said that an appeal should be filed "immediately," before a deadline for the State Board of Elections to finalize materials for the 2021 election.
Considering that timeline, GOP leaders asked North Carolina Attorney General Josh Stein (D) to appeal the decision, Daniel said. Because Stein responded that he cannot file an appeal until the written opinion is released, Daniel indicated that the GOP legislative leaders could file their own appeal using an attorney.
In a statement, the State Board of Elections said it is "reviewing the decision and will consider the written ruling upon its release." It added that county boards across North Carolina must immediately begin to permit such individuals to register to vote.
According to the Brennan Center for Justice at New York University, a liberal nonprofit law and public policy institute, 28 states bar community members from voting simply on the basis of convictions in their past. These criminal disenfranchisement laws exclude millions of Americans from the democratic voting process and vary widely among states.
Sean Morales-Doyle, acting director of voting rights and elections for the Brennan Center, said significant steps have been made since 2018, with almost a dozen states — including Florida, Kentucky, Iowa, New Jersey, Connecticut, New York, California, Nevada, Colorado, Louisiana and Washington — moving toward the restoration of voting rights, though they widely vary by state.
Some states, such as Florida and Maryland, still prevent people from voting depending on the type of crimes they committed. Others automatically restore their right to vote upon release from prison.
In the District of Columbia, Maine and Vermont, felons never lose their right to vote, even while they are incarcerated.
Paulina Villegas is a General Assignment reporter covering breaking news and national enterprise stories for The Washington Post. Previously, she worked at the New York Times' Mexico bureau, where her work focused on drug crime, government corruption and human rights issues.  Twitter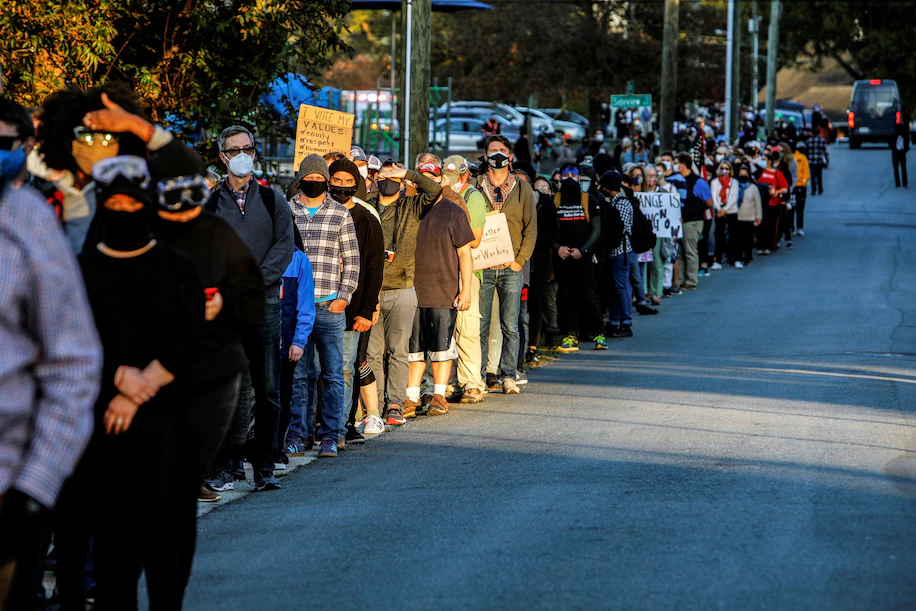 Image : People line up at a voting rights demonstration on Election Day on Nov. 3 in Graham, N.C. (Jonathan Drake/Reuters)